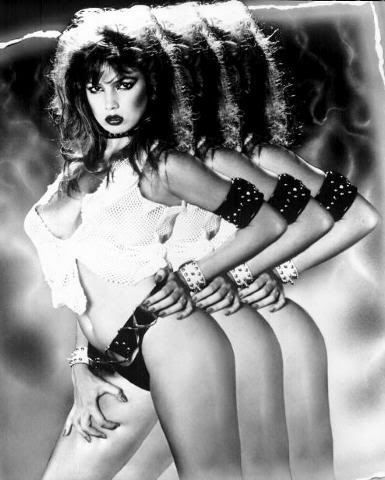 The early to mid-1980s were no doubt porn's last real golden age, when many films still had stories (flimsy though they might have been), and not every girl who performed in them were bleached blondes with awful, bulbous fake tits. It was also the era which saw the emergence of some of hardcore's most popular performers, including Ginger Lynn, Samantha Strong, Taija Rae, Sharon Mitchell, Tom Byron, John Leslie, Nina Hartley, Christy Canyon and others.
But there was no bigger XXX starlet in the eighties than Norma Louise Kuzma, better known as Traci Lords. Famous initially for her looks (archetypal 1980's American girl gone bad) and displays of raw, slutty sexuality, Lords later became infamous when it was revealed that she had forged her birth details and had begun to work in the adult entertainment filed at the age of just 15, when she appeared as the centrefold model in the September 1984 issue of
Penthouse
. Within months, she had been featured in layouts in
Oui
,
Hustler
,
High Society
and
Swank
, before making the transition to XXX cinema.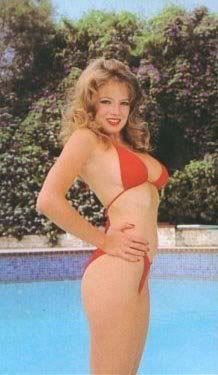 Traci Lords is also one of the few hardcore adult performers who have also gone on to have a legitimate and fairly successful mainstream career outside of the filed, as an actress (Cry Baby, Blade, Melrose Place, Profiler), solo singer (with her heavy techno/dance CD 1,000 Fires), author of a best-selling autobiography, and general pop culture icon (at least amongst certain demographics).

The following are a selection of brief reviews of Traci Lords' hardcore film titles, which I compiled back in 1999 for issue six of the off-beat film fanzine Reel Wild Cinema! I have decided to publish the reviews here pretty much how I first wrote them, with just a couple of minor corrections and updates where appropriate.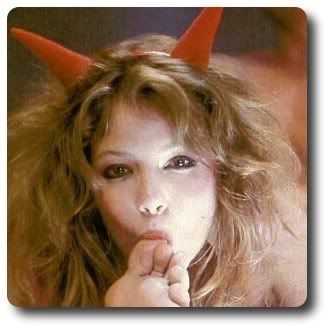 NEW WAVE HOOKERS
1985/Directed by Gregory Dark

New Wave Hookers wasn't Traci's first film (1984's What Gets Me Hot - made when she was 16 and paid $10,000 for eight days work - holds that distinction), but it is one of her best and most controversial, and she sure looked amazing with a pair of devil horns! Jamie Gillis and the late Jack Baker (who also appeared in bit roles on mainstream TV shows like Happy Days) imagine themselves as the owners of hooker agency, whose girls become sexually insatiable when exposed to new wave music. One of the girls who works for them could well have inspired Heather Graham's Rollergirl character from Boogie Nights.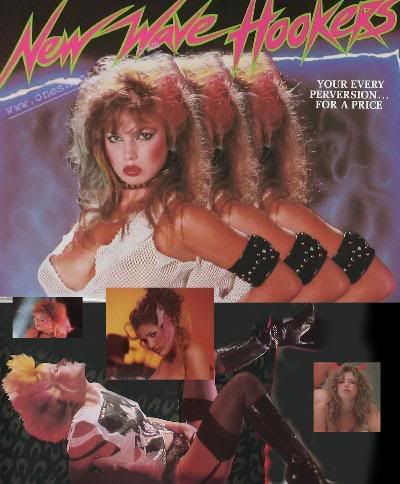 Clearly influenced by the impact which MTV had on the pop culture psyche, New Wave Hookers has the look and style of a slick music video. The film is well photographed and edited, while the original music by the Plugz is quite catchy and impressive, and could very well work within its own context rather then being just another piece of tacky but throwaway porn background funk.

A great introduction to both Traci Lords and 1980s porn at it most visually creative, New Wave Hookers also features Ginger Lynn, Kristara Barrington, Kimberly Carlson, Gina Carrera (her debut), Tom Byron and Peter North (affectionately known as 'Beer Can' in the industry due to his ability to deliver spectacular orgasms on cue). Director Gregory Dark (aka Gregory Hippolyte) went on to direct music videos for Britney Spears and Linkin Park, amongst others, and helmed his first mainstream feature, See No Evil, in 2006. An entertaining and informative interview with him was published in issue 26 of Micheal Weldon's classic Psychotonic Video fanzine.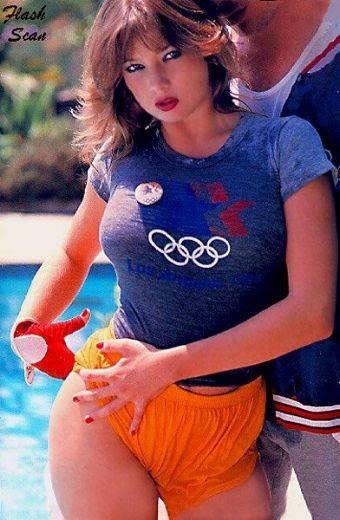 SISTER DEAREST
1984/Directed by Jonathan Ross

Shades of Animal House permeate this film, one of Traci's best. Rich Randy Jennings (Tom Bryon, sporting a bad moustache to make his baby face seem older) returns to his old frat house for a 10th anniversary reunion, and finds an old naked photo of his sister Vicki (Traci), who was also a student at the college, stuck to the noticeboard.

While Randy studies the photo, he has a flashback to 1974, when he was a new pledge at the Gamma Nu frat house. The new pledges are driven to get laid within two weeks, or suffer the indignity of the Black Hole (a cellar where the unsuccessful pledges have to take on two hookers while the entire frat house watches). A 'peter meter' chart on the wall keeps track of their progress and achievements, including Stinky Fingers, Wet Kisses, Blow Jobs, Pussy Eat (you get the idea…). When Randy's time is almost up, sis Vicki arrives and saves him from the embarrassment of the Black Hole.

Shot on 35mm film, Sister Dearest looks great, with nice set design and clothing which helps reflect the vintage era. Ginger Lynn and old reliable Harry (Deep Throat) Reems co-star.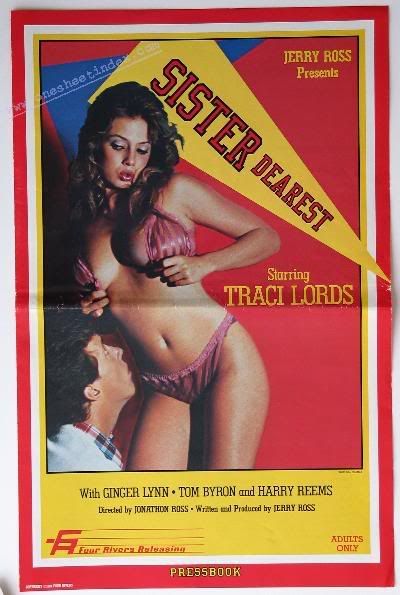 TALK DIRTY TO ME III
1984/Directed by Ned Morehead

The only real connection which this film has with the first two (award winning) Talk Dirty to Me films (from 1980 and 1983) – apart from producer Jerry Ross – is star John Leslie, who plays a womaniser doubting his sanity when a beautiful mermaid (Traci) emerges from a pond at a nudist camp and forces her attentions on him. Her unnamed character learns phrases like "Hot throbbing dick" and "Eat my pussy", and shacks up with a trio of more seasoned mermaids (led by Ginger Lynn).

Traci also narrates this obvious cash-in on the Tom Hanks/Daryl Hannah hit Splash, and in some scenes she actually looks quite soft and pretty (as opposed to the raunchy demeanour she was usually asked to project). Talk Dirty to Me IV followed in 1985, although Traci only appeared in it via flashback footage.


HARLEQUIN AFFAIR
1985/Directed by Bruce Seven

Like most porn stars, Traci Lords never looked as good when shot on video as she did when captured on 35mm film, and Harlequin Affair provides ample proof of just how quickly the quality of hardcore deteriorated once the widespread use of cheap video equipment infiltrated the industry.
There's nothing overly special about this film, save for its dangerously incestuous theme, as an extended family get together for a weekend of partner (and gender) swapping. The camera work is clumsy and the sound is muffled in many scenes. The only real assets are the appearance of beautiful African American starlet Sahara, and a very raunchy and genuinely electric girl/girl scene between Traci and the buxom Christy Canyon (the pair made a stack of films together during this period).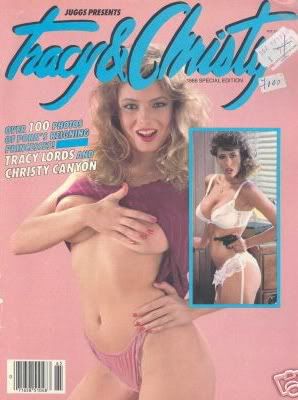 With Tom Byron (also one of Traci's off-screen boyfriends) and a cameo by Sharon Mitchell (in a video which Christy watches). Mitchell now organises HIV tests for adult film stars. Director Bruce Seven had a very prolific porn career before dying in 2000 from emphysema and stroke complications).

TRACI, I LOVE YOU
1987/Directed by Jean Charles

Also known as Traci, Je T'aime, this was the first and only hardcore film which Traci made once she reached the legal age of 18, and since all of her 100+ earlier films were seized and made illegal, it has been recut and re-released numerous times over the years to try and cater to the insatiable demand for explicit Lords material.

Filmed in France and produced by Lords' own production company, this is a fairly pretentious tale which sees Traci basically playing herself, screwing her way around at the Cannes Film Festival while trying to convince producers she is indeed a serious actress. The movie is narrated by both Traci and an obsessed photographer who is stalking her.
While Traci looks more defined and mature in Traci, I Love You, her onscreen enthusiasm seems somewhat diminished, and it provided a rather disappointing end to a spectacular and controversial XXX career.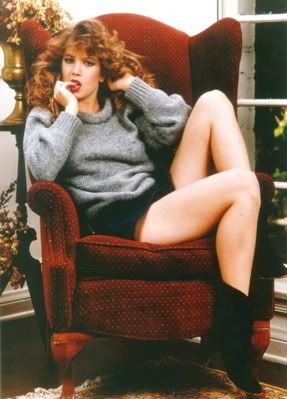 OTHER NOTABLE XXX TRACI LORDS FILMS:
LUST IN THE FAST LANE (1984)
BLACK THROAT (1985)
EDUCATIONG MANDY (1985)
IT'S MY BODY (1985)
SIZZLING SUBURBIA (1985)
FANTASIES (1986)
FOXY BOXING (1986)
TRACI TAKES TOKYO (1986)