1976/USA/Directed by Renee Daalder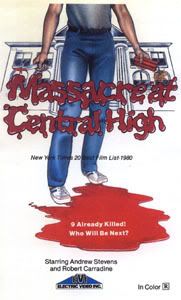 Conceived by producers Harold Sobel and Bill Lange as little more than a cheap exploitation film that would hopefully pack in the grindhouses and drive-ins for a couple of weeks before disappearing into the ether, Massacre at Central High ultimately proved to be a disappointment at the box-office during its initial run. Reviews were also ho-hum, and in the days before the mass-marketing of home video cassettes, the film looked destined to spend its life rotting away in some obscure cinema vault, before a chance screening in 1980 at the Thalia Cinema in New York caught the attention of Times reviewer Vincent Canby, whose subsequent write-up was so glowing the film suddenly found itself in demand by repertory and art house cinemas, as well as college campuses, across America.

After being teased by an exciting television trailer for the film (it was rated 'R' in Australia - restricted to adults over the age of 18 - and I was only 12 at the time), my interest in Massacre at Central High was rekindled by Danny Peary's interesting essay on the film in the second volume of his Cult Movies series (Dell Publishing 1983), and I finally caught up with the movie via its local Australian tape release on the Merlin Video label. To my surprise, I found the film more than lived up to its reputation, and it has since developed a niche amongst my favourite B flicks from the much-maligned seventies.

Set within a teenaged world seemingly free from adult interference (although more than half of the action takes place within the walls of the titular high school, no teachers or 'grown-ups' appear in the film until the final sequence, and even then they exert no discernable influence), Massacre at Central High takes as its basis the well-worn theme of the new kid at school and his struggle to be accepted without having to change who he is. David (Derrel Maury) arrives for his first day at Central High and instantly catches wind of the stifling atmosphere inflicted by the ruling bullies Bruce (Roy Underwood), Craig (Steve Bond) and Paul (Damon Douglas). Unfortunately, David's childhood friend Mark (the prolific Andrew Stevens, son of Stella and writer/producer/director and/or star of Z grade scuzz like Night Eyes, Point of Seduction: Body Chemistry III, Victim of Desire, Illicit Dreams, ad nauseam) is also part of this dominating clique, and his refusal to either join them or give into their ways immediately causes tensions between the two.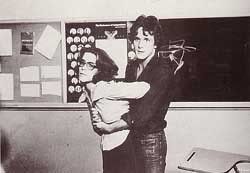 After David sinks a few mean right hooks into Bruce, Craig and Paul for attempting to rape two pretty students (70s cult fave Cheryl 'Rainbeux' Smith and future Eight Is Enough star Lani O'Grady), the trio retaliate by crushing his leg under the wheel of a car. But rather than forcing him into line, this merely tips the brooding David right over the edge, as he sets off on his path of revenge by planning spectacular deaths for those who crippled him. Bruce plunges to his doom when Davis snips a wire on his hang glider, Craig takes a night time dive from the high board into the school's swimming pool, only realising too late that it has been drained of water, while Paul is trapped in the back of his van and rolled backwards down a treacherous coastal road. But rather than liberate the school, the death of the three bullies only allows those which had previously been repressed to come out and try to assert their own dominance, and David (by now well and truly revealed to be psychopathic) decides that mass slaughter is the only way to get through to these people.

Featuring elements which were latter put to use in films like Class of 1984 (1982) and Heathers (1990), what helps set Massacre at Central High apart from the standard exploitationer is the assured direction and intelligent, thoughtful screenplay by Renne Daalder (whom at one point was rumoured to be a woman). The Dutch born Daalder, whose foreign upbringing no doubt helped him to create a unique insight into his vision of the American teen, went on to have a sporadic but diverse career which included orchestrating the famous 'mass shooting' sequence perpetrated by Sid Vicious while performing My Way in The Great Rock 'n' Roll Swindle (1980) and working as visual effects consultant for the 1994 Michael Apted thriller Blink. An interesting CV indeed....

Above: Original theatrical trailer.
Also appealing are the performances from most of the central cast, including Derrel Maury (a familiar face on seventies TV shows like Happy Days and Emergency), and Kimberly Beck, who creates a strong impression as Mark's girlfriend Teresa. As a child and young teen, Beck appeared in episodes of The Munsters, I Dream of Jeannie, Land of the Giants, The Brady Bunch and others. Trash fans remember her best for her performance opposite Linda Blair in the 1979 disco schlock Roller Boogie, and as the female lead in Friday the 13th: The Final Chapter (1984).

Although some of the dialogue appears a little forced and clunky, Daalder at least refrains from overdosing on seventies' slang expressions. He also fills the film with a number of exciting set pieces (in particular, the various creative deaths), all of which are well captured in a low-key way by cinematographer Burt Van Munster (who would go on to find fame and considerable fortune as the producer of the ground-breaking and highly influential reality TV series Cops).

While it has surfaced occasionally on VHS throughout the years, and has been released as a bare bones DVD in some countries (utilizing a worn and dull print). Hopefully, it won't be too long before Massacre at Central High receives the deluxe disc treatment, as it's a film which deserves to find a wider niche amongst fans of provocative exploitation cinema.

As an interesting aside, Massacre at Central High was also released in a re-edited version, under the amusing but highly misleading title of Sexy Jeans! The only addition which the crazy Italians made to their print was the insertion of some near-X footage, which is spliced into the film whenever a sex scene takes place in the original print. The fact that they are inserts is made quite obvious, as the faces of the characters are never shown during these more explicit moments, and the naked bodies on display seem to be just a little too old and hairy to be high school students! The film has also been screened in the UK under the title Blackboard Massacre.