Is there then no American auteur director? Perhaps there is one. One man who thinks up his own stories, and produces and directs them too. And also serves as his own cinematographer. Not to mention that he also does his own editing as well. All of this connected with an intensely personal and a unique vision of the world. This man is Russ Meyer.
- William Goldman, Adventures In The Screen Trade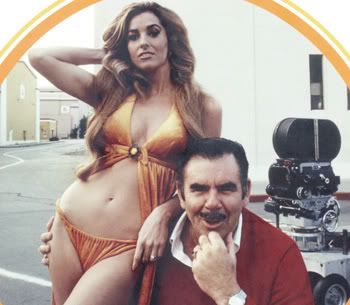 Often dismissed purely as a director whose work revolved around a simple fixation on big breasts (as highlighted in an episode of Seinfeld), Russ Meyer was in fact one of the most distinctive American directors of the 1960s and 70s, with a cinematic style (based on stationary cameras, low-angles and rapid-fire editing) that has helped influence some of the most important renegade filmmakers of the pasty thirty years, including John Waters and Quentin Tarantino.

Born in 1922, Meyer began his career as a combat cameraman in Europe during World War II, shooting footage for newsreels back home. While most veterans espouse a 'war is hell' philosophy, Meyer openly professed throughout his life that this period spent in war torn Europe was the best time of his life. Returning to the US after peace was declared, Meyer found work as a popular still photographer, shooting several of the earlier centrefolds for Playboy (including that of his future wife, Eve), before eventually returning to filmmaking in 1959 with the trendsetting, humorous nudie-cutie film The Immoral Mr. Teas. Meyer followed up Teas with several more similar films (Eve and the Handyman, Wild Gals of the Naked West) before moving into his black & white drive-in period, during which he helmed his first really important and influential films, including Lorna (1964), Mudhoney (1965) and the cult classic Faster, Pussycat! Kill! Kill! (1965).
As the sixties progressed, Meyer turned his attention to making tough, exotic colour sex fantasies like Common Law Cabin (1967), Finders Keepers, Lovers Weepers (1968) and Vixen (1968), whose impressive box-office success led 20th Century Fox to lure Meyer across to the studio to direct the sleazy, supremely enjoyable Beyond the Valley of the Dolls (1970), which – like several of his subsequent films – was co-written by prominent film critic Roger Ebert.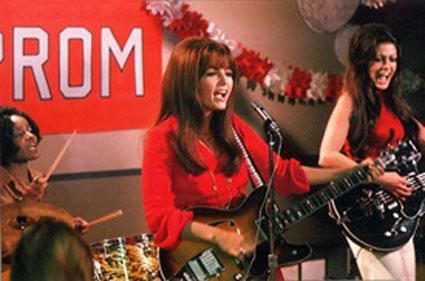 Despite the commercial success of Dolls, it became clear that Meyer did not work well within the confines of a studio, and while his output slowed somewhat during the 1970s, he continued to turn out his own independent, softcore sex fantasies like Supervixens (1976) and Up! (1978), his work remaining unique even as hardcore pornography became commonplace. One interesting ill-fated project from this period was the Sex Pistols movie Who Killed Bambi?, which Meyer was hired to direct (from an Ebert screenplay and with Marriane Faitful cast as Sid Vicious' mother) before funding fell through after only a few days filming (the project eventually morphed into Julien Temple's The Great Rock 'N' Roll Swindle in 1980).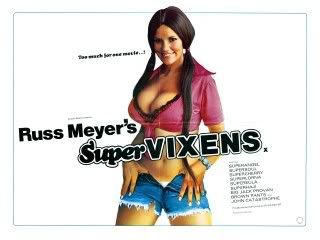 Unfortunately, despite many threats, Meyer was never able to complete a feature after Beneath the Valley of the Ultravixens in 1979. His much vaunted 10 hour autobiographical documentary The Breast of Russ Meyer, which he first started talking up in interviews in the early-80s, never appeared, nor did his planned 1990s colour remake of Faster, Pussycat! Kill! Kill! (surely an idea that would never have worked). He did manage to direct a music video for late-80s L.A. glam/metal band Faster Pussycat, and also assembled a video centrefold of top-heavy model Pandora Peaks in 2001, before dementia began to take an increasing toll on his health, with the director finally succumbing to pneumonia in 2004.

The world of Russ Meyer is as unique as any artist of our times. You can look at five seconds of a Russ Meyer film and know that you're watching a Russ Meyer film. – Roger Ebert

THE BREAST OF RUSS MEYER:

LORNA (1964)
A rural, Fellini-esque melodrama filmed in black & white, Lorna marked Meyer's breakaway from the relatively harmless nudie films to more gritty, and violent subject matter, and with Lorna Maitland in the title role, his pattern of using big busted, pneumatic women was established. Features an amazing opening credits sequence, where the camera tracks along an isolated road before coming to a halt on a preacher who warns the audience not to go on.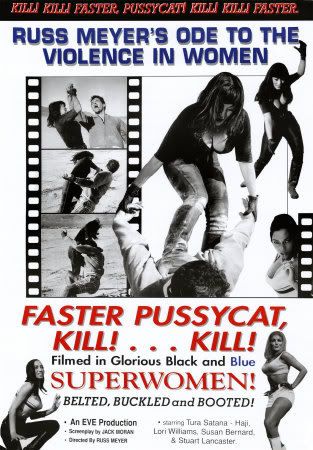 FASTER, PUSSYCAT! KILL! KILL! (1965)
Meyer's most famous independent film was essentially a remake of his previous Motor Psycho (1965), substituting the three male bikers of the earlier film with a trio of tough, hard driving go-go dancers and creating one of the most popular cult movies of all time in the process (along with establishing Tura Satana as one of the most iconic b-movie stars of the period).

CHERRY, HARRY & RAQUEL (1969)
Marijuana smuggling forms the narrative backbone of this tough little film set on the US/Mexican border. Coming off like a Don Siegal actioner with the addition of lots of raunchy sex, this is one of Meyer's more underrated works, and features a strong lead performance from Charles Napier and a snappy theme song by the Jacks and Balls.

BEYOND THE VALLEY OF THE DOLLS (1970)
One of Meyer's only two studio films (1971's ill-fated The Seven Minutes being the other), Beyond the Valley of the Dolls is a rollicking exploitation epic about an all-girl rock group, The Carrie Nations, and their sleazy, spectacular rise to superstardom. Bearing no relation to Valley of the Dolls (whose author Jacqueline Susann sued to have a disclaimer included during the opening credits), Dolls boasts one memorable scene after another, along with one of the best pop/rock soundtracks of all time.

BENEATH THE VALLEY OF THE ULTRAVIXENS (1979)
Meyer's final feature was his ultimate expression of sexual parody, an hilarious and remarkably well-edited look at the exaggerated sex life of small town America, starring one of the director's greatest finds, Kitten Natividad.

Also Recommended: The Incredibly Strange Film Show was a great UK documentary series on cult filmmakers, hosted by Jonathan Ross and produced by Channel Four in 1988. One of the best episodes was devoted to Meyer, featuring interviews with the director, Tura Satana, Roger Ebert and Kitten Natividad, along with clips and a peak at the unfinished The Breast of Russ Meyer. Currently unavailable on DVD. Also look for Russ in an amusing cameo as a video store clerk in the 1987 satire Amazon Women on the Moon.
Note: The above article was previously published in Filmink magazine.