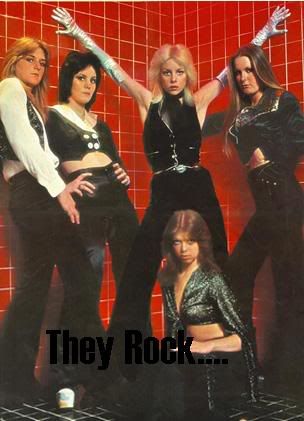 Like most great rock & roll bands, the Runaways were simply too good for the era in which they lived and breathed. They chose to exist in that murky, grey twilight zone which separated punk and hard rock, and weren't fully appreciated by followers of either genre until it was far too late.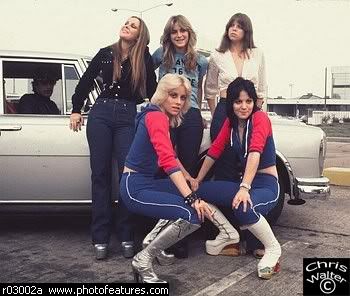 The Runaways were formed in 1975, helped along in no small part by legendary Hollywood rock sleazemeister Kim Fowley. Aspiring rock goddess Joan Jett and her pal, bassist Kari Krome, responded to Fowley's ad in an LA music mag - the duo wanted him to help them form a band. Fowley was impressed with their raw energy and enthusiasm, and no doubt sensing dollars quickly agreed to help them out, provided a suitable line-up could be built around them.
Jett soon met drummer Sandy West in the parking lot of the infamous Rainbow Bar, while Fowley hooked up with lead guitarist Lita Ford and raunchy vocalist Cherie Curry (who was working at a teen club in the San Fernando Valley called the Sugar Sack). Unfortunately for her, Kari Krome missed out on a spot in the band's eventual line-up (Fowley felt her bass skills were insufficient), although she did stay on as a co-songwriter.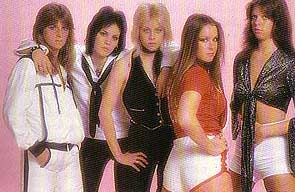 With the statuesque Jackie Fox coming into the fold on bass, the line-up was ready to begin work on their debut LP,
The Runaways
, which featured the classic teen rock anthem C
herry Bomb
. The film clip which accompanied the song, featuring Currie strutting around in corset, fishnet stockings and stilettos, no doubt shocked a lot of middle-class parents, particularly those who were trying to raise a teenage daughter! Other standout tracks on the LP include
You Drive Me Wild, American Nights
, a cover of Lou Reed's
Rock And Roll
and the epic
Dead End Justice
(which plays like the soundtrack for a teenage Women-In-Prison film).
The Runaways' follow-up LP,
Queens of Noise
, was released in 1977, and it emphasised the increasing influence which Joan Jett was having on the band - she not only co-wrote most of the songs on the recording, but sang many of them as well, something which caused a lot of obvious friction between Jett and the band's designated lead singer, Currie. Although it lacked a standout single in the vein of
Cherry Bomb
,
Queens Of Noise
is arguably the band's strongest release, highlighted by tracks such as
I Love Playing With Fire, Neon Angels On The Road To Ruin, Take It Or Leave It, California Paradise
and
Heartbeat
.
Although they were gaining a lot of coverage in the rock press, and were building up a solid (though small) base of hardcore followers, the Runaways were never able to crack the big time record sales wise. Their biggest market was Japan, where they toured in 1977, and released a subsequent concert LP,
Live In Japan
. A fantastic document of the band's raw and energetic live sound,
Live In Japan
is an essential purchase for Runaways fans, particularly the original Mercury vinyl pressing, which features a luxurious gatefold sleeve, with the band looking resplendent in skin-tight leather and spandex.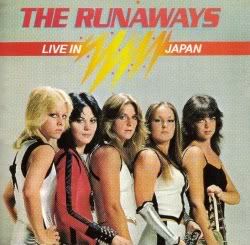 Soon after the Japanese tour, Currie walked out on the band, allowing Jett the opportunity to take full creative control (particularly since Fowley had also by this time left the fold).
The Runaways 1979 recording,
And Now....The Runaways
, was a more slick and polished production, with bubblegum flavoured pop/rock tunes like
Right Now
and
Little Lost Girls
sitting alongside more traditional punk/glam tracks such as
Saturday Night Special
and
Black Leather
(the UK punk scene had created a huge impact on Jett, and that influence is clearly evident on this release).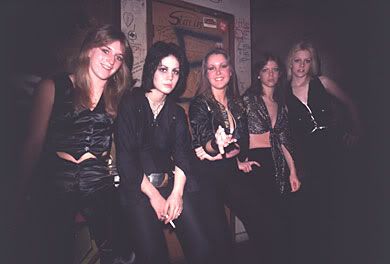 Vicky Blue had by now replaced Jackie Fox on bass, but like their previous LP, 1978's
Waiting For The Night
,
And Now....The Runaways
performed miserably and in fact wasnt even released in the USA until 1981, when Rhino Records put it out as
Little Lost Girls
. The Runaways split soon after, with Joan Jett having the most successful solo career of all the band members, thanks to her worldwide 1982 hit
I Love Rock & Roll.
Lita Ford also found a degree of fame in the mid-1980s, when she joined the fledgling US heavy metal brigade, performing in skimpy outfits and big hair, and recording a number of moderately successful LPs, the best of which was 1983's
Dancing On The Edge
.
In 2004, Vicki Blue wrote and directed
Edgeplay
, an outstanding documentary on the Runaways which, despite not being able to use any of the band's original music, and the absence of Joan Jett (who refused to co-operate with the making of the film) provides an insightful, though-provoking and occasionally heartbreaking look into the history of the band (particularly the final moments featuring Sandy West, who tragically died of cancer in 2006).
Although I would have loved to have seen them live, I'm glad that the Runaways have managed to resist the temptation (so far at least) to do a reunion tour....something that I feel just wouldnt work. In many ways, however, the Runaways are still very much with us....not just in their recorded legacy, but in bands like the Donnas, and in the hearts of every teenage girl who dreams of picking up an electric guitar and rocking out.
Copyright John Harrison 2007