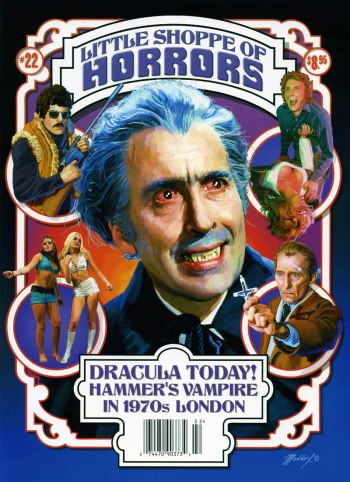 A magazine I've been reading consistently for over twenty years, it's always great to see a new issue of
Little Shoppe of Horrors
appear. Devoted mainly to the great old genre films produced by England's Hammer studios between the 1950s - 1970s, each issue of Dick Klemensen's 'fan' publication features exhaustive, well researched articles along with interesting, revealing interviews, rare photographs and stunning color covers.
The latest issue of
Little Shoppe of Horrors
(#22) has a fabulous piece on Hammer's much-maligned modern day Dracula films of the early seventies (the swingin'
Dracula A.D. 1972
and
The Satanic Rites of Dracula
), including interviews with stars Caroline Munro, Christopher Neame and Valerie Van Ost. Elsewhere in the mag we find an interesting examination of the lesser known
noir
films which Hammer produced before they struck gold with their Frankenstein and Dracula films starring Christopher Lee and Peter Cushing in the late fifties.
Bookending the magazine are gorgeous covers by Mark Maddox (front) and Bruce Timm (rear), as well as interior cover color portraits of Cushing (by Frank Dietz) and Lee (by Norm Bryn).
In an age when self-published niche magazines are either going exclusively online or disappearing altogether, Klemensen and his team of contributors and helpers deserve to be commended for keeping
Little Shoppe of Horrors
going for so long and at such a high quality, and it is excellent to see the magazine coming out even more frequently than usual. The history of Amicus Productions (Hammer's main rival in the UK) as presented in issue #20 was like a book unto itself, and I'm already looking forward to reading about the production of Hammer's great 1966 double-bill
Plague of the Zombies
/
The Reptile
that is slated to appear in the next issue.
For ordering info visit the magazine's website at:
http://www.littleshoppeofhorrors.com/